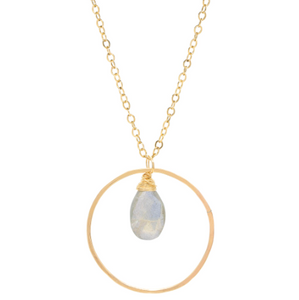 Labradorite is an iridescent grey rock that feels and looks magical.  A gorgeous, shimmery labradorite stone is circumscribed in a hand-forged and soldered 14k gold-filled hoop that creates a focal point for your outfit.  The necklace is a longer 28 inches piece which falls at the sternum. 
Handmade in Los Angeles, CA with all 14k gold-filled materials.
Mahalo for shopping local!